HEYERPOWER
SEAMOSS GEL
Contains 92 essential minerals our bodies need.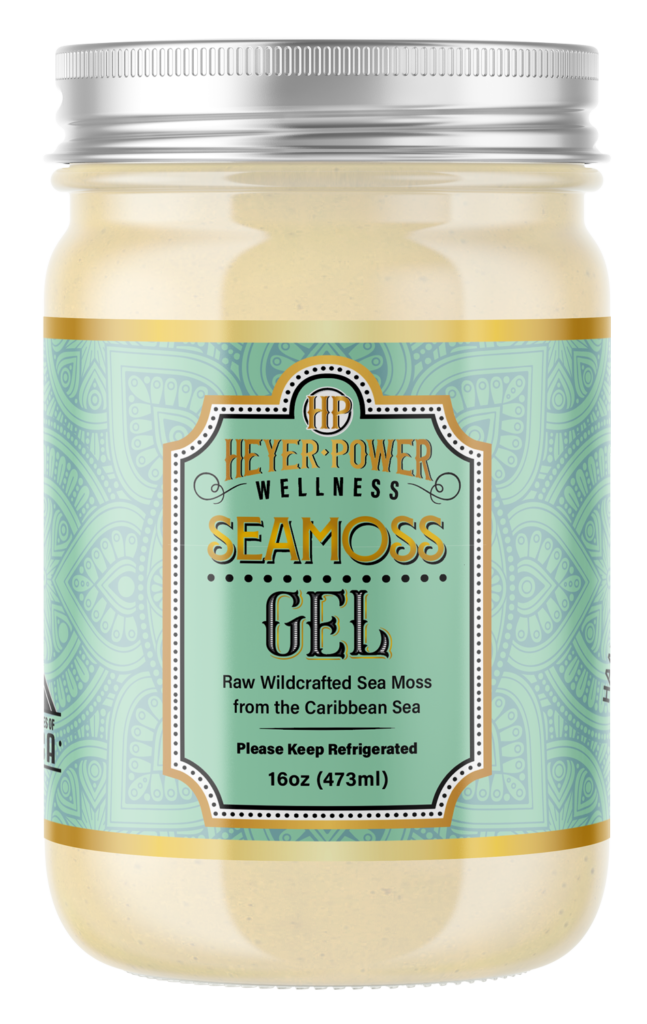 Sea moss is a type of algae that supports healthy weight loss, help you build lean muscle, rev up energy and metabolism as well as super-charge your immune system. Daily servings of sea moss provides most of the vitamins and nutrients your body needs in a day to be its healthiest.
Key Features
Sea Moss is known as the "miracle of the sea"
Sea Moss is known as the "miracle of the sea". This is due to the fact that it contains 92 essential minerals our bodies need. With its high mineral content, Sea Moss provides sweeping health benefits from a natural detox and energy source to immune system support, improved digestion and gut health, fortified hair, skin and thyroid support.
This Superfood Contains:
Iron plays an important role in immune function
Magnesium helps with muscle and nerve function, blood sugar levels, and blood pressure and making protein, bone, and DNA
Calcium and phosphorus helps build stronger bones
Potassium is necessary for the normal functioning of all cells. It regulates the heartbeat, ensures proper function of the muscles and nerves
Zinc helps the immune system fight off invading bacteria and viruses
I can't think of a superfood that I've added to my diet that has made a bigger impact than sea moss gel does. Highly recommended.
February 2022
Melissa M.
Me and my husband love the sea moss and felt the effects right away. I can definitely see the long terms benefits.
April 2022
Cindy R.
I take seamoss gel every week as part of my regular diet and I can honestly say that the energy and overall feeling that I've had since I've taken it has been the best thing for me with my busy schedule.
March 2022
Jonathan D.
Hand Made From Real Wildcrafted Sea Moss
Gently grown in the unpolluted shores of Jamaica. Nourished by the ocean, then dried by the sun. Never bleached with chemicals and no fertilizers used ever. Sea Moss is one of nature's supreme gifts to us!
This 16 ounce jar is a solid two week supply